Known for using visual and textual strategies to produce and reveal overlooked ironies in her chosen cultural context, Karen Knorr's 'India Song' is truly an ode to an unseen and unimagined India. Knorr visited India 15 times from 2008-2014. Since 2008, her work took a new turn as she focused its gaze on the upper caste culture of the Rajput in India and its relationship to the animal world using her photography.
Like any other pioneering photographers who found wealth as an exotic subject matter in India, Knorr decided to celebrate the visual richness found in the myths and stories of northern India.
Each of her finished photographs from the India Song is a mystery and a fable – referencing to the vast tradition of picturing animals in art. The results create stunning images for the 21st century as they further blur the boundaries between reality and illusion.
Here's a quick look at some of our favourite images from her India Song series:
1.Sikander's Entrance, Chandra Mahal, Jaipur City Palace, Jaipur, Courtesy: Skira Publishing
2. Avatars of Devi, Samode Palace, Samode, Courtesy: Skira Publishing
3. The Opium Smoker, Chitrasala, Bundi, Courtesy: Skira Publishing
4. The Return of the Hunter, Chandra Mahal, Jaipur Palace, Jaipur, Courtesy: Skira Publishing
5. The Flight to Freedom, Durbar Hall, Juna Mahal, Dungarpur, Courtesy: Skira Publishing
6. The Private Audience, Aam Khas, Juna Mahal, Dungarpur, Courtesy: Skira Publishing
7. Vishnu's Return to the World, Rani Ki Vav, Patna, Courtesy: Skira Publishing
8. Homage to Ustad Mansur, Courtesy: Skira Publishing
9. Master of Seduction, Amer Fort, Amer, Courtesy: Skira Publishing
10. Krishna's Rasa Leela, Chitrasala, Bundi, Courtesy: Skira Publishing
11. The Queen's Room, Zanana Palace, Udaipur, Courtesy: Skira Publishing
12. Palaiyakkaras, Hazararama Temple, Hampi, Courtesy: Skira Publishing
13. Solitude of the Soul, Udaipur City Palace, Udaipur, Courtesy: Skira Publishing
14. Bakhti, Path of Santa, Shiva Temple, Hampi, Courtesy: Skira Publishing
15. The Joy of Ahimsa, Takhat Vilas, Mehrangarh Fort Palace, Jodhpur, Courtesy: Skira Publishing
16. Sita's wish, Zanana, Junhamahal, Dungarpur, Courtesy: Skira Publishing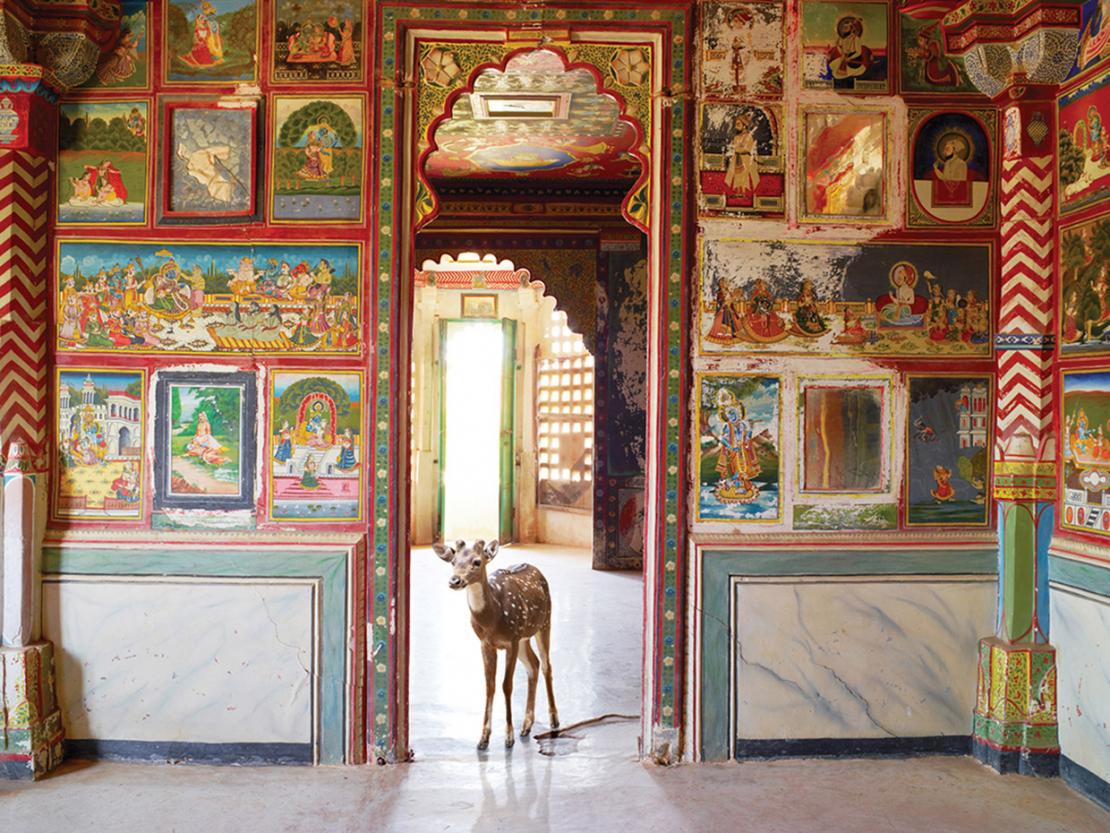 17. Krishna's Crown, Jawa Mahal, Jaipur, Courtesy: Skira Publishing