Most often our homes are brimming with solid colours, following a colour scheme. While these colours may give your homes a vibrant appearance, something seems amiss, doesn't it? Patterns in all their glory are the answer to an exciting abode. When utilised correctly, various patterns have the power to weave magic into the nooks and crannies of your abode.
The importance of patterns is often underestimated and we tend to miss out on giving our spaces a snazzy upgrade. Patterns are almost always passed on for their easier counterparts. To many, attempting to utilise patterns to spruce up their abodes might seem like a tedious task- a common misconception. It might be a delightful surprise to you that the addition of patterns and designs can compliment the corners of your home in more ways than one.
While you're on the pathway to begin your pattern journey, its always crucial to remember that becoming a pattern-pro can be done easily. By starting out small and working your way to layer a variety of patterns, your home can become the design haven you have always wanted it to be! Combining various prints in different styles can bring out a visually appealing aesthetic that was missing before.
One of the best parts about designs and patterns is their ability to have a little something for everyone- whether you happen to be a maximalist who loves going all out with decor or if you happen to be a minimalist who prefers keeping tones and textures muted. There will always a plethora of patterns for all those who wish to dive into its universe.
The House of India Circus by Krsnaa Mehta brings to you the ultimate guide to infusing designs and patterns into your abode-
We aren't oblivious to how intimidating the process of introducing patterns into your homes is. The key to making this experience simpler is by taking small steps. While you may want to go all out in the long run, its always best to introduce a whiff of your favourite design in little ways.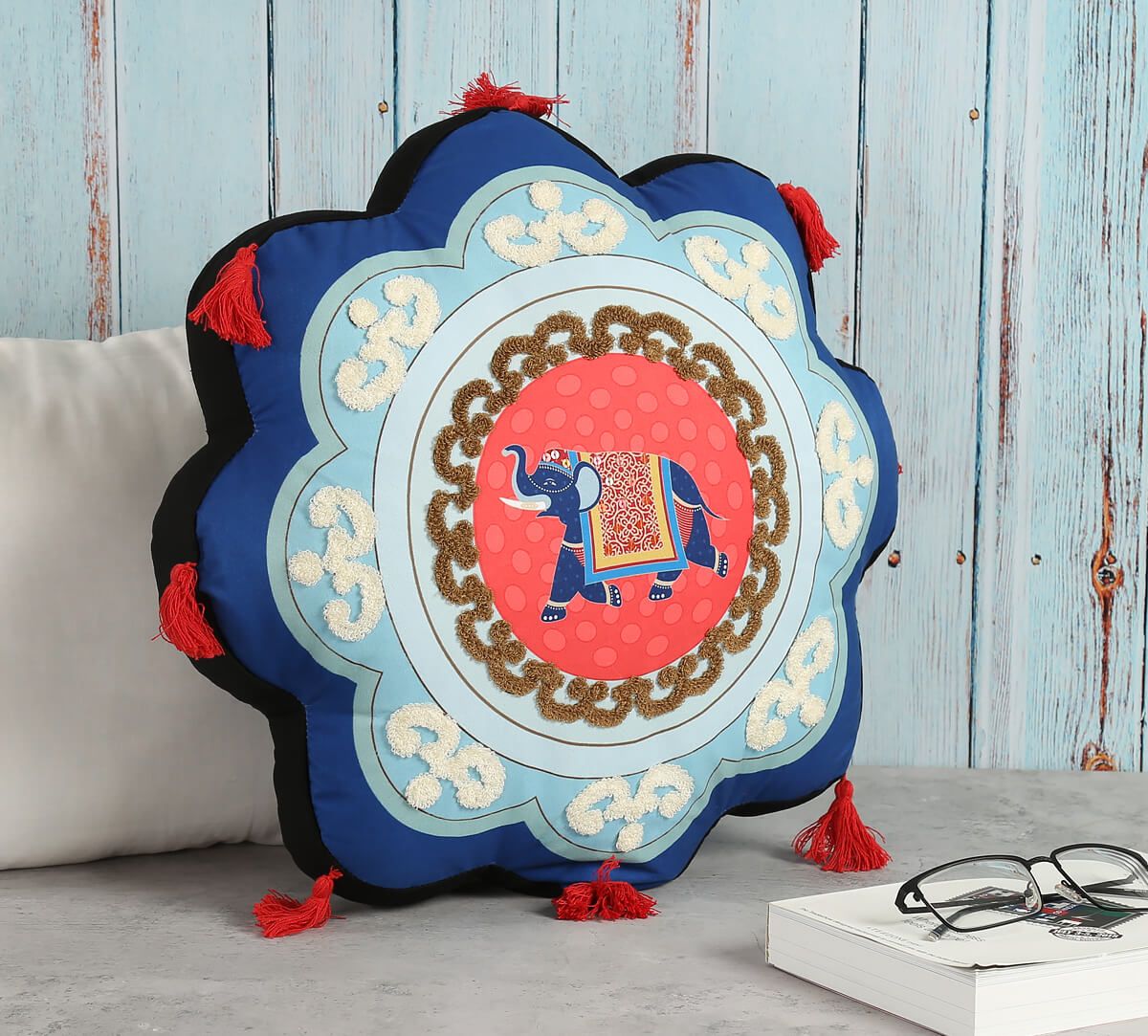 Getting a vibrant cushion for your plain sofa would be an ideal way to bring in some much needed patterns home. Sometimes, less is truly more! The Eclectic Tusker Shaped Cushion imbues the correct patterns with its design depicting a floral outlined cushion with an elegant marching tusker surrounded by intricate detailing.
Nothing says a decor upgrade like a burst of colour in your home. To most, letting bright colours into their spaces might seem like a daring feat but it's also something that will breathe life into an otherwise dull space. Simple but colourful patterns possess the power to recharge the room- whether its your kitchen, your workspace or your bedroom.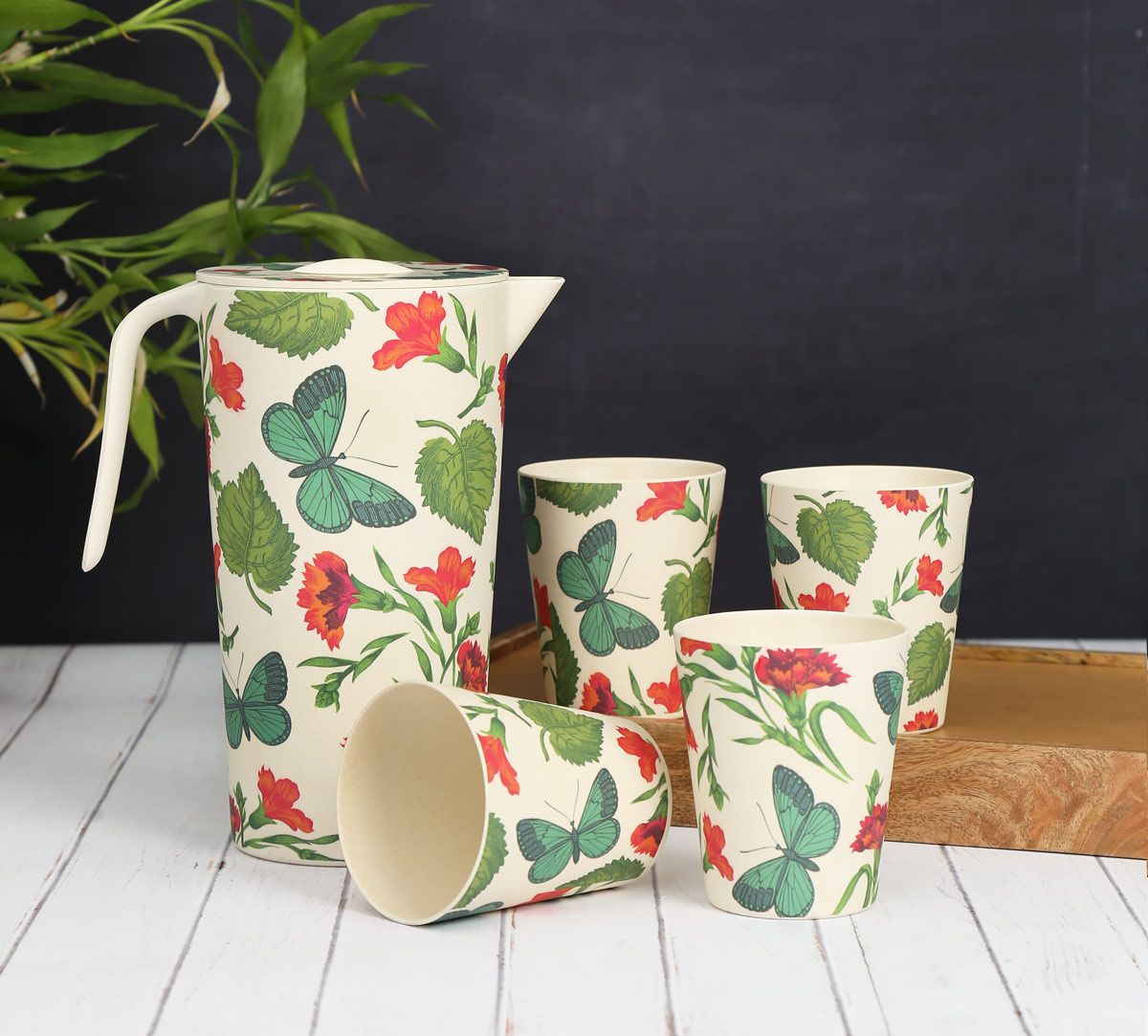 For instance, colourful patterns on your serveware will instantly enliven your food experiences. The Fluttering Extravagance Bamboo Jug Set sources inspiration from the intimacy of winged butterflies and sugar source flowers. The exciting hues of green and red add a vibrant touch to your kitchen & introduce colours in the right places.
One of the easiest ways to introduce a barrage of patterns into your space is by letting wallpapers in. An instant transformation from plain old block colours to blooming designs that bring excitement and vigour is guaranteed with wallpapers. Versatile in its abilities, this decor piece can highlight any room and act as a delightful backdrop too.
If you wish to walk into the world of wallpapers, but happen to be perplexed by the varieties available, look no further. The Windows Of Dazzle Earthy Wallpaper exhibits your keen eye for panache. The infusion of designs on this wallpaper lets you peep into tranquil visuals of floating shikaras on the Dal Lake. Suffused with floral extravagance and soft hues, it will brighten up every room its in.
Not everyone happens to be a fan of large patterns and designs. For the minimalists who enjoy keeping it light but also love simplistic patterns, behold beddings! It could be daunting to introduce large motifs and patterns, beddings are an ideal option for those who prefer dialing their designs down a bit.
India Circus has a wide variety of bedding patterns with pleasing designs to bring luxury home to you. With a neatly hand block printed design featuring a lovely Dahlia and pleasant colours and pattern, the Blooming Dahlia Quilted Bed Cover Set is a perfect choice for some calming designs.
Keep the creativity button ON
If there is one factor that ties the whole process of letting patterns in together it is creativity. Allowing your artistic side to flourish will aid you in giving your desired spaces a decor switch. The secret to acing at this would be having your heart set on a theme and then utilising that theme to tie all your decor ideas together.

We hope this motivates you to embrace patterns and infuse them into your homes. After all, what's a home without some exhilarating design?