Alright, ladies and gentlemen, boys and girls, are you ready for a New Year present!
So, after saying a warm "Hello" to the New Year, it's now time to say "Goodbye" to the beautiful winter season. But, of course, we won't do so without letting you making the most of it. India Circus is back with its End of Season Sale, which is not only the best way to bid adieu to the winters, but also a way for you to welcome the new season with style and splendour. Make the most of our unbelievable End of Season Sale, kick starting from January 9th where it's raining discounts on all our products.
If you were looking to re-do your walls, wardrobe, or just about any and every big and small space and place of your home and personal style, now is the time, because it just can't get any better than this!
The 999 Shop
The stunning cushion covers, the gorgeous home accessories, and the beautiful magnets, mugs, coasters and shot glasses from India Circus are now just a click away, and so affordable, too! A complete steal…shopping for things priced below Rs. 1,000 never got this exciting!
Accessorize under 2,499
Can you believe that all those colourful and super-cool personal accessories at India Circus that you and your neighbour couldn't stop ogling over are now priced at below Rs. 1,999! Of course, move really quick and order your favourite accessories now, before your neighbour steals it all!
Spaces makeover under 4,999
So, you are done giving yourself a super-glam makeover for the party season…it's now time to give your home a breathtaking makeover, too! And, we will help you do it all. A range of home décor items, table runners and lots more are ready to adorn your home…all under Rs. 2,999 (ladies, the most basic facial will also cost you more!).
Dining makeovers under 2,999
Do you enjoy eating the same food every day? We are sure you don't! Then why eat around a space that has worn the same look since so many months. Give your dining area a makeover, now. And India Circus' End of Season Sale gives you all the reasons to do so! From exciting table mats to classy crockery, it's all on sale. It's time for you to dine in style!
The Pop Bazaar
Summer is the season to bring out all your pop-coloured clothes, shoes and accessories, and enjoy the season with these bright and beautiful colours. Our pop-coloured products in The Pop Bazaar are sure to make you happy, and fall in love with the season. So, this summer…go pop!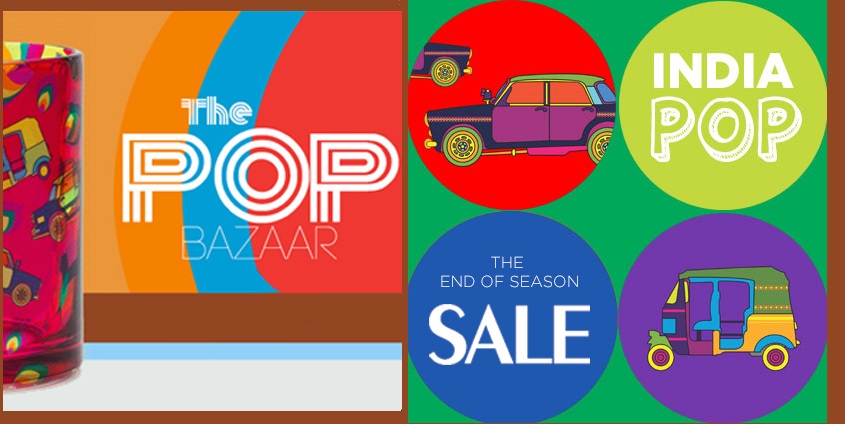 Men's Corner
So, all you men (and boys!), we do understand that there's a rather big hole in your pocket, thanks to the festive season and all the lovely gifts that you surprised your special lady with. But, it's now time to spend a little on yourself. And, when we say, "little," we mean it! Get the hottest ties, cufflinks, boxer shorts, wallets, T-shirts, watches, utility pouches and document holders at unbelievably low prices. After all, why should girls have all the fun!
Shop, shop and shop, and just don't stop…because here's the king of all sales!