The new year beckons with a fresh and energetic approach toward design, especially work spaces. Interiors will be remodeled to experiment with novel thoughts on design accents that go beyond conventional trends. Whatever their size, firms are using contemporary design methods to offer their offices an aesthetically pleasing look. Not everyone likes working in a dull, uninteresting office environment. Let's face it, we work for more than twenty hours a week; we might as well take the time to adorn our nooks so that we genuinely look forward to waking up and working up!
Remember that the "energy" of space is essential. To balance out the stress and tension that you are experiencing from attending those long calls and meetings, you might want to exude some coziness and comfort in your office. Whether you are working from home, have your cubicle, or even your own office, it too needs a revamp.
So, let's get your Pinterest board put up to reality!
Set your Desk

How will you make space for your documents and laptop if your desk has scattered stationery? Organize your stationary in style with the help of a simple yet aesthetic desk organizer by India Circus.
Wipe your Tears

Office walls see a lot of emotions. Be it happy, sad, or even tears after a hard laughter. The Tissue Box Holder serves as both a decorative accessory and an exquisite work of art. It elevates your daily activities and impresses anyone who sees this elegant tissue box.
Plant it Pretty

Breathe some life into your office by adding a planter. Not only is it a source of decor, but also brings a sense of optimism and light into the room. Such potted plants might assist you in dividing spaces naturally. Moreover, they enhance the office's air quality.
Paper, Paper on the Wall

Wallpaper, once the bane of interior design, is now found in opulent residences and hotels all over the world. Traditional flower patterns and more contemporary geometric patterns are the two most-used wallpaper options today. One wallpaper behind your chair and the vibe has changed!
Add Aroma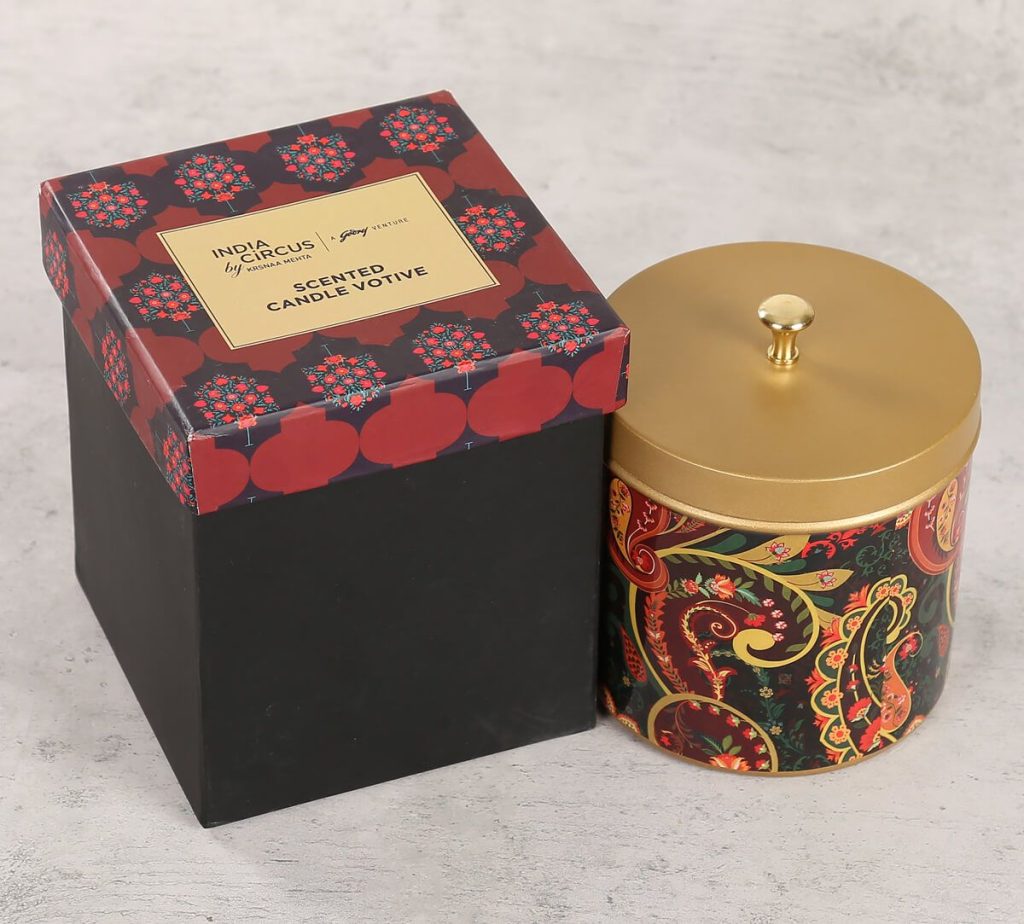 What's better than entering a room smelling of Jasmine, or vanilla? Ironic how a simple scented candle can transform the vibe and mood of the room! With the aid of scented candles, bring the working spirit into your office not just virtually but also aromatically.
Tables Turn

Adding an extra piece of furniture to your office is never an unwanted option. With a side table, you can easily use it to keep your coffee mug and snacks. Moreover, it adds aesthetics and charm to your space.
Cover your floors

Rugs are an excellent approach to defining different places without imposing physical barriers. Irrespective of the space, you may still add rugs underneath your furniture to give an accent, or even at the entrance to liven up your space.
Serve in style

Not only does your furniture and the look of the office define your vibe, but also how you treat your clients. Every detail matters. Serving your client in an attractive set of glass tumblers might help you crack a deal!
Call for Canvas
Hanging art may give your desk a far more intriguing, considerate, and spacious appearance. Keep it straightforward with black and white wall hangings or go wild with colorful, attention-grabbing pieces that make you happy every time you pass them. The heart and mind of your business can be reflected in the canvas prints you hang on the walls of your office.
Take a seat

After spending the pandemic at home, it might seem difficult to see your office with contemporary furniture. Add a traditional touch by incorporating a wooden bench. You can easily rearrange your furniture thanks to moveable pieces of furniture as opposed to bulky, rigid objects.

Design fads come and go. We look forward to decorating our home space each year. We neglect the fact that since our workstation functions as a second home, it too demands a makeover. By utilizing the new office design trends for your workspace to the fullest extent feasible, you can ensure that you are prepared to welcome the new year.