Wedding season will go berserk in the coming months. With all the celebrations and festivities taking place in full swing, you will need a gifting guide. This list by India Circus will be a savior for gifting the newlyweds. Choosing a gift for newlyweds can be tricky for a few different reasons. For starters, they likely just got everything they need from their wedding registry, so you'll need to think outside the box a little. One's also got the task of impressing not one—but two—of their favourite people. We know they just got everything on their registry to be creative.

Here are the top 10 recommended unique gifting ideas that can make the hosts super happy.
Floral Reed Tea Cup & Saucer Set
The gorgeous finish on this Floral Reed Tea Cup and Saucer Set from India Circus is a keeper. We all love to start our day with a cup of hot tea that ensures a great day ahead. And while we love a perfect brew, we must have just the right cup to go with it. The newlyweds can enjoy their morning tea in this beautiful set.
Diamond Motifs Candle Votive by India Circus

On the glass's rims and over its surface are tidy rows of vertically aligned diamond designs that are meticulously drawn. The wax is eco-friendly because it is paraffin-free and comes in a set of two. Don't be surprised if this candle lights up one's mood as well as room! So, if anyone is still wondering what to buy for the newlywed love birds, look no further than India Circus.
Cacatua Galerita's Realm Cup and Saucer Set of 4

India's vivid flora and fauna served as an inspiration for the design. A lovely cockatoo is perched on one of the palm trees, and there are also conifer and lotus trees nearby. With these ideal mugs, the newlyweds may begin their new chapter of life.
Glaring Garth Coffee Mugs and Coasters Set of 2

The Glaring Garth Coffee Mug and Coaster set will always be there to save you from those boring typical coffee cups. It is turquoise in all its splendour, with birds, roses, and attractive leaves accentuating the design. Give the couple this lovely mug set as a gift to brighten their mornings.
Paisley Romance Scented Candle Votive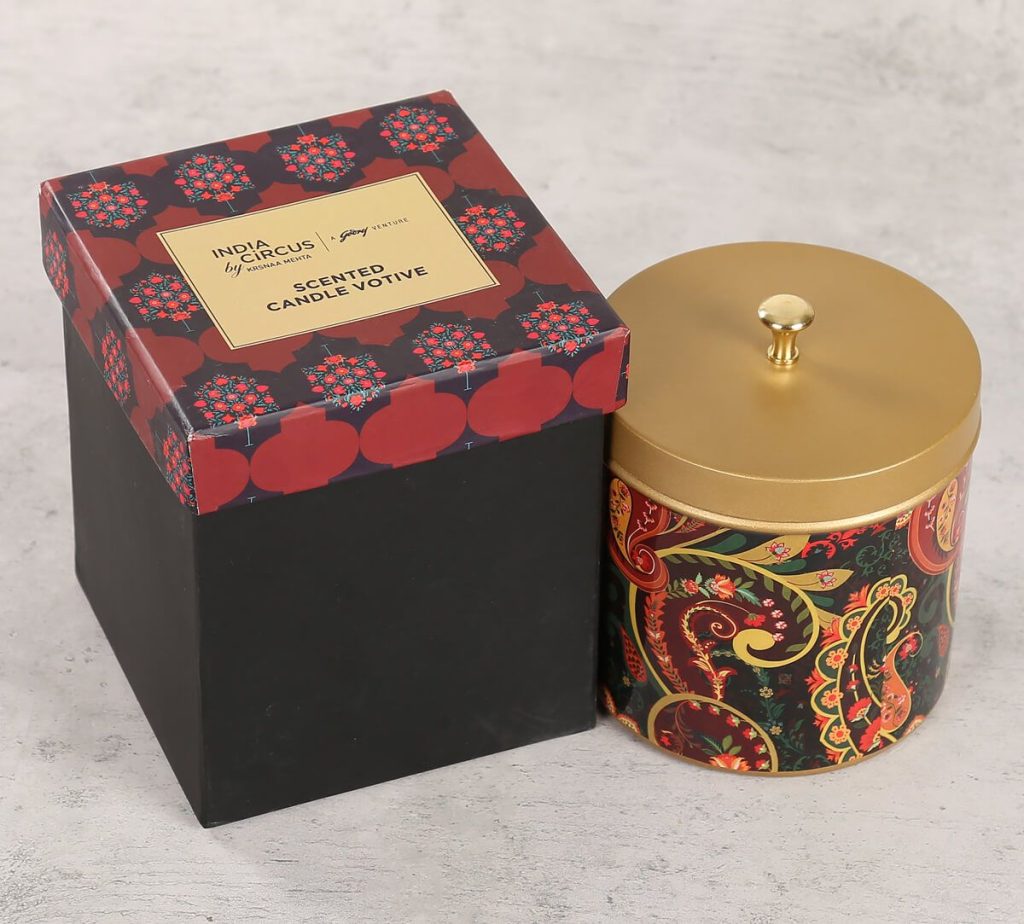 The Paisley Romance Candle Votive from India Circus provides an attractive appearance that is ideal for home decor or seasonal parties. The lovely paisley patterns are displayed on the iron and brass votive candle. Give the newlyweds this lovely candle to lighten and brighten their home.
Gruidae's Trance Coffee Mug Set of 2

The flowers and clouds never cease to astound anyone, with an aesthetically beautiful design of gorgeous cranes flying on a gray background. What could be more enjoyable than giving the pair the ideal coffee mug to begin their day? Gruidae's Trance Coffee Mug set by India Circus is all that needs to be gifted!
Aerial Moment Bottle and Tumbler Set

Aerial Moments is a set of two steel tumblers and a water bottle that features the fanciful moments of the crane's flight splashed on a blue background and some blossoms. It is the ideal present for a travelling pair. The set is ideal for both, offices and homes. These tumblers are convenient for carrying on trips and to the office.
Neon Pink Owl Figurine Set of 3

A beautiful and eye-catching centerpiece is a good choice for a gift for any new couple entering a new home together. Add an equestrian charm to their space with this Neon Pink Owl Figurine Set of 3 from the house of India Circus. The detailed piece captures the beauty of the Owl. Made of polyresin, it's easy to maintain as it only needs a clean dry cloth to clean it up.
Marine Opulence Coffee Mug Set of 6

This lovely Marine Opulence Coffee Mugs from the house of India Circus features birds, roses, and exquisite leaves in its composition. It is a stunning limited-edition premium collection because of the turquoise background, making it the ideal present for newlyweds.
Poppy Flower Scarlet Bedside Copper Jar

We are all about the fun games for newlyweds but we're also about their wellbeing and good health. And if that comes in a gorgeous copper jar then the joy is manifold. A copper water jar is timeless, it has all the health benefits and it will also act as a beautiful piece of the bedside table.

Beauty is a fragile gift. This wedding season give the new couple beauty, comfort, and elegance. Don't take the pain to hunt for a perfect present, because India Circus has just made it simpler. So, enlighten the season and the life of the newlyweds with these simple, yet stunning pieces by India Circus.