Your home is your comfort zone. This is where you retire after a hectic day at work, build a million memories, and feel belonged. It is a space that lets you be. So, the vibe in your living room must be welcoming, warm, and soothing. It must be a place where you can let your guard down and re-energize. And you can create such an atmosphere by decorating your walls with unique wall art.
Your walls are often a display of your personality. Hence, it almost always makes sense to beautify the bare walls of your living space with a visually appealing wall covering. Of course, it doesn't always have to be a bold wallpaper! You can simply take your pick from wall hangings, framed art, or picture frames that blend well with the color scheme of your interior design, and transform the overall look and feel of every empty space in your home!
With the right wall art, you can create an atmosphere that reflects the essence of who you are. Carefully selected wall decor can add more character to your living room, giving it a look that makes your home more desirable.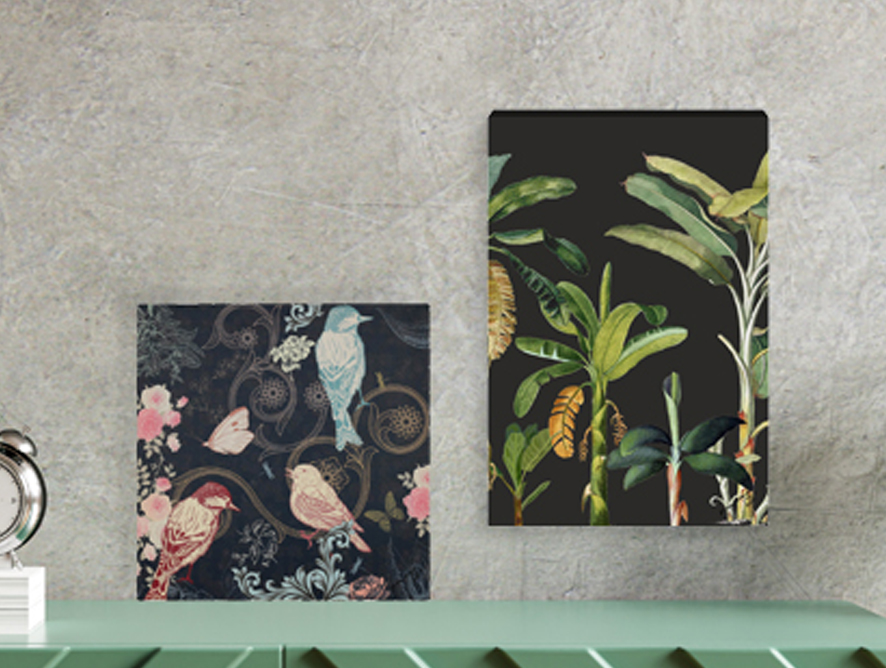 Types of Wall Decor for Your Living Room Walls
Wall art adds more colors to the blank space on your walls. It makes the lonely, dull-looking walls more enriched and beautiful. It not only adds more value to how your room feels but also provides more texture and dynamics, creates a focal point, and even boosts your mental well-being. However, with so many options available in the market, it can become a daunting task to choose the right kind of wall art, especially if you want it to be more than just a decorative item. Here are a few options you can choose from to create a perfect living space: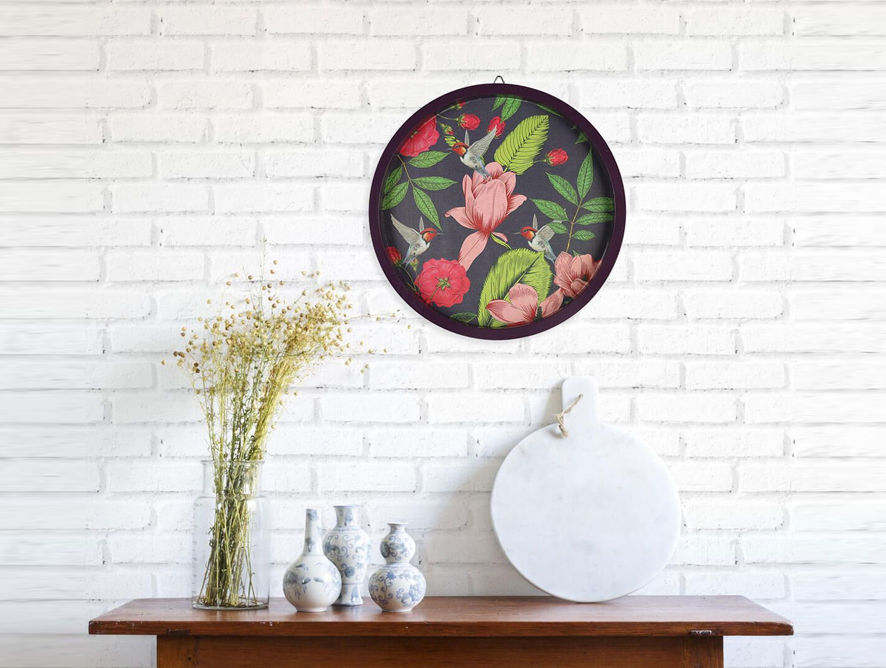 Mirrors and Handmade Plate Art
Mirrors make any living space bigger, which is a real advantage for smaller rooms. Apart from that, there are lovely hand-made wall plates available created by either local artisans or renowned artists such as Krsnaa Mehta. They give a unique feel to the living space and are a perfect choice for those who love traditional Indian art. Again, these items of wall decor would prove to be a spending addition, when you wish to amp up the look of a structured gallery wall or even your dining room wall.
Add Hues to Your Wall for living room walls
Nothing jumps out as an attractive visual more than a digital print. If you are good at it, you can do it yourself, or ask an artiste to paint something brilliantly colorful and meaningful across the length and breadth of the wall. It will give your living space a signature look and feel. Of course, you can also opt for the stunning digital photographs and prints of the renowned artist Krsnaa Mehta.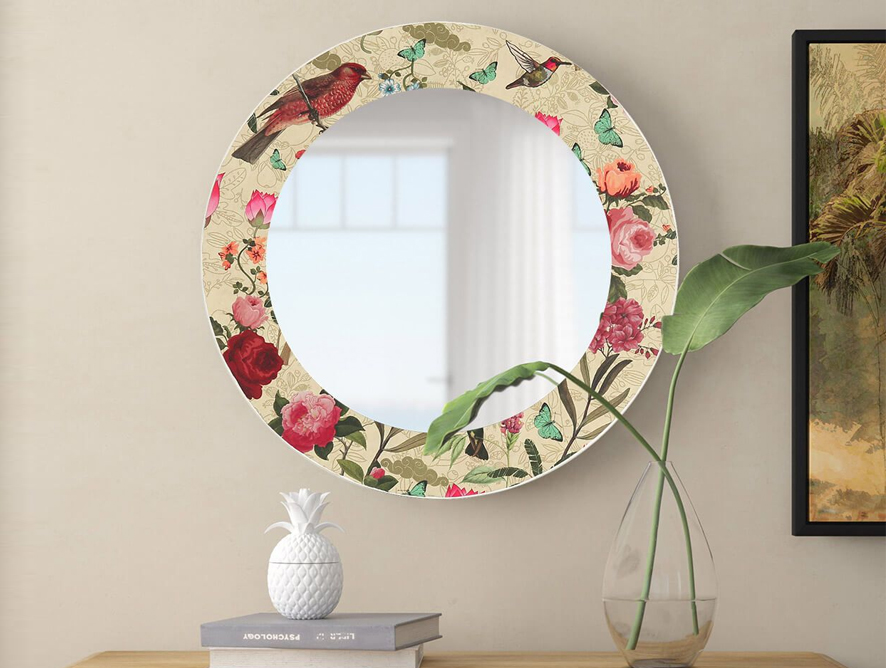 Typographical Wooden Frames
We all have our favorite authors, writers, poets, and personalities who inspire us. Their words of wisdom, famous quotes, as well as inspirational lines can be used to adorn the walls in typographical wooden frames. You can choose the fonts, styles, colors, and display options to suit your mood and liking. What's more? This wall decor idea can prove to be ideal, in fact, spectacular for your gallery wall as well!
Colorful Maps for living room walls
We all love traveling, and we all have our dream destinations. Having colorful maps of those destinations, and making it the focal point of the entire wall can give your room a unique look. You can also have maps of places you have visited with the snapshots of your travel pictures stuck to them with pins. This will not only create an attractive visual on an otherwise empty wall but also remind you of all those beautiful memories you created during your trips⛰️.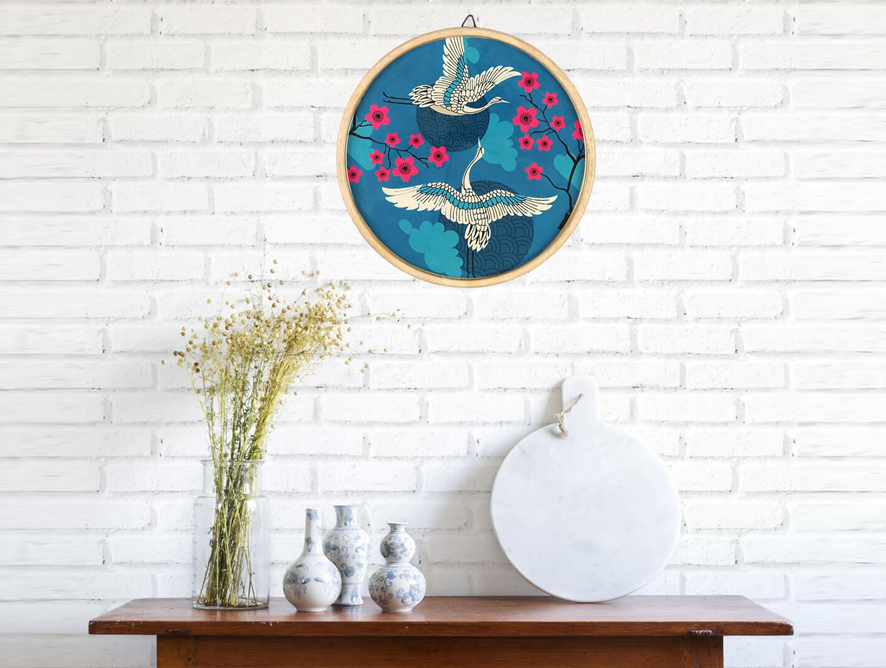 Scarf Hangings for living room walls
Wall art doesn't always have to be paintings and other decorative items. It can be a collection of lovely scarves on a blank wall! Wondering how would it sit well with a modern living room? Well, simply choose scarfs of different colors, textures, and materials to make a beautiful collage. This can prove to be especially gorgeous when used on empty walls or in a minimalist space with adequate natural light! After all, what could possibly make for a better hanging art than an interplay of splendid hues and natural lighting?
Find the Right Space to Hang your Wall Art
What you hang on your walls will determine how attractive the space looks. However, where you hang it will create the right impact. A wrongly placed item, no matter how attractive it is, will not have the same impact as opposed to the one that sits at the right spot. Here are some spaces that make for ideal spots for wall art:
Above the Sofa
Hanging a wall art right above the sofa is one of the most common and effective spaces. Although, there are a few things you must keep in mind. If you hang an art piece, ensure that it is two-thirds of the total width of the sofa, end to end. If there is more than one art piece, collectively they should make up two-thirds of its width. There should be around 2-3 inches of space between each art piece in a group. Always try to hang them in the center of the wall so there is equal symmetry on every side.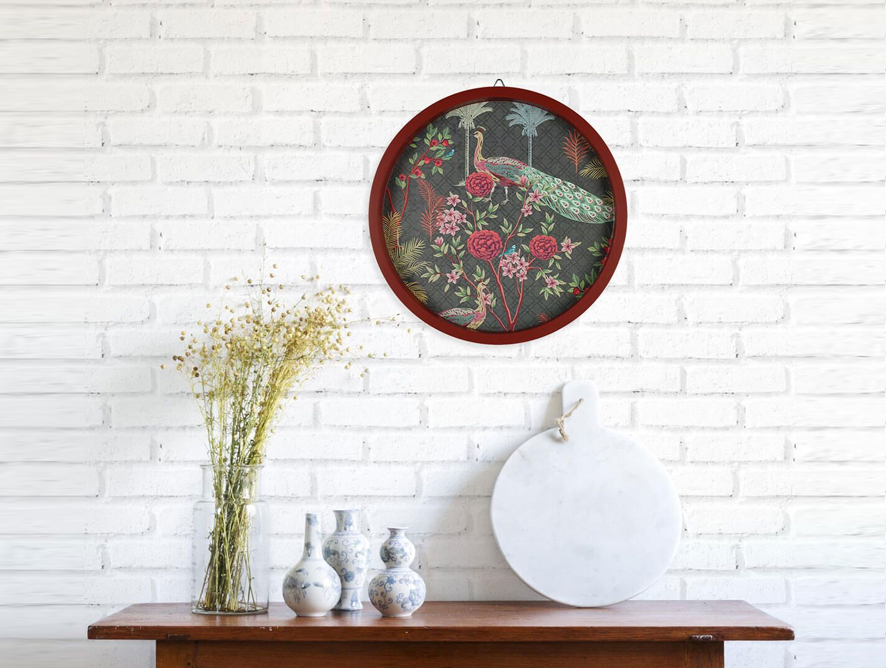 Above the Mantel
Hanging an artwork above the mantel creates a warm and welcoming space. Mantels in themselves create a regal look, and if you match a piece of art with its royalty, it simply lifts the look of the entire room. However, make sure that the art piece doesn't overshadow the mantel. It must add more to the look rather than overpowering the space.
Grouped Artwork for living room walls
Grouped artwork is one of the best ways of spicing things up on the walls. These are a varied number of items clubbed together to make a whole. It could be a collection of vibrant paintings, black and white photographs, textured items, etc. These are ideal for large living rooms with ample wall space. You can let your imagination flow and create large collages of interesting items. Photo walls are often created in such spaces. They not only create a colorful space but also lend a very personal touch to it. Some of the things to keep in mind while creating grouped art for the family room are that there should be a focal point, equal and consistent spacing, and it should make sense as a whole. Therefore, it is important to create a plan before you stick it on the wall!
The India Circus Take on the living room walls
A dash of color added to your living room's corner, a personalized group art adorning the wall, traditional handwork on the console table, or modern canvas wall art above the coffee table – there are many ways of elevating the aesthetics of your living room! Regardless of the wall decor ideas you pick, do make sure that they align with your sensibilities. After all, it is your home. Own every space of it, and give it a new life with your chosen array of decorative items!
FAQs About Living Room Wall Decor Ideas
What is the most affordable way to decorate living room walls?
Porcelain plates and wall mirrors on one wall of a small space can help elevate the overall aesthetic, without crowding the area. If you want to keep it even simpler, make sure to pick the same shade of wall decor, as the colour scheme of the space you intend to decorate.
How to give a modern look to a small living room?
White walls adorned with canvas wall art – one of the simplest ways of achieving that much-desired chic look for your loving space!