A dinner party is a means to get to know your guests better. So, you must put in great effort to get the ambience set, lay out delectable food and beverages, and plan every other thing. Amid these preparations, one thing that can easily slip out of your mind is serving dishes for the party. You will need premium platters and serving dishes to make your food appear more palatable. Your guests will be happy too, receiving the royal treatment.
If you are gearing up for one such party, then we are here to help you pick the best serveware and serving items.
Add them to your collections to turn the first impression into a best one.
Serveware for home dinner parties you will need
Party dinnerware sets are dishes you use to serve the food. There are tons of options and combinations that you can go for before you find the ultimate collections. This section will easen that burden by telling you the essential items you need. It also comes with links to breathtaking products that you can buy in a few clicks. These are not just great in quality but are also super affordable. Let's quickly jump into the section to uncover what your dining table needs.
Bottles and Tumblers
Typically, we welcome guests with a glass of water. This sweet holds a lot of meaning behind it. Why not do it with style, then? Quench their thirst with pretty-looking glasses, tumblers, or water bottles. Glass or stainless steel tumblers are the perfect option for this as they are easy to handle. Copper and bamboo are other classy options available. Check out our drinkware guide here to know in-depth about the diverse drinkware options we have.
Here are some pretty tumblers and water bottles that you can use for serving your welcome drink and water.
Chevron Palms is one of our iconic prints which you can never have enough of. Decorate your dining table in the form of water bottles and tumblers. They are made of stainless steel which means you can easily maintain them. The finish is another feature that makes it irresistible.
Let this be the amusing topic your guests are going to rave about.
If nothing impresses you like traditional glass tumblers, then this pair of glasses will cheer you up. They are transparent glass tumblers with unique palm prints around it. This will look great when you set your table up for a traditional dinner event. It also comes in other colours and prints like Blooming Dahlia and Mughal Jhali.
Wine glasses
Nothing else can spark great conversations like a fine wine. Have a great set of wine glasses to serve wine, cocktails, or any other beverage. Currently, tinted glasses are trending a lot as they reflect the wine colour in a pretty way. You can either go for them or the usual colourless cocktail glass depending on the mood you want to create.
For the material, hand-blown crystal is the most preferable next to lead glass.
Here are two stunning wine glass sets that can look great on your bar cabinet.
This green-coloured crystal glass is perfect for serving white or red wine. With night light setting, they will radiate, turning the drink more interesting. You don't have to worry about their lifetime as they are thicker than regular glass material. So, let them out of the cabinet to kick off spicy conversations.
How can we leave this pink champagne glass? They are sleek, modern, and are suitable for any occasion. Their pink colour will make the drink glow in a mildly lit atmosphere. Pick out a pair of these glasses and light up your dinner evenings with sparkling champagne.
Serving trays
Serving trays can be saviours when you have to carry more than your hand can accommodate. But this doesn't have to be boring and dull as there are plenty of options. For instance, you can find a tray that matches with your glasses and bowls. Serve your drink, snack, nuts, and other confectionery.
For material, you can choose wood, brass, bamboo, or stainless steel.
Here are some amazing options for you to carry your drink with elegance.
Let them wonder whether it is a tray or a box when you bring you this hexagon-shaped tray out. It's printed both outside and inside unlike regular trays. So, when you keep transparent glasses inside, it's going to look even more attractive. India Circus also has traditional wooden trays like this Inflorescence paragon tray. This comes with three trays of different sizes. While the former appears creative and zesty, the latter wins with classic and vintage.
This is slightly unique from the previous one as in size and material. Made of glass with a brass frame, this tray is fully ornamental and royal in appearance. Your guests will feel royal when you serve them cold drinks in this elegant tray, all thanks to its alluring floral patterns and colours. If wood doesn't go with your theme, choose this glass tray blindly.
Cheese trays
Serving appetisers is the next step for which you will need platters and trays. These trays are a great option if you want to show off your cheese collection. Or, you can use them to lay out cut fruits, starters, and finger snacks.
While choosing the tray, prefer shapes with infinite ends (rounded) as they are easily accessible to everyone.
Featuring a few sophisticated platters that India Circus has that will blow your mind.
Fruit bowls
You will need a pleasant display of fruits in your dining table. This calls for a fruit bowl where they can be stacked up, ready to be cut and served. These bowls are available in plastic, steel, and wood. However, if you want the table to appear aesthetic, then a wooden bowl should be incorporated.
Here is the perfect pick from India Circus.
This striking fruit bowl will win your guests hearts for sure. It's made of mango wood, which means it will never age, even if you regularly use it. Besides, it's a sustainable option compared to plastic bowls and cases. So, whether a party or not, let your fruit bowl hang out with other dinnerware and capture some attention.
Say goodbye to run-of-the-mill plates. Surprise your quirky guests with this unique wooden platter. It looks like a traditional Indian cot, rendering cosy vintage vibes. Your guests would love accepting drinks, snacks, and other appetisers from this to get the dinner party started. With strong and sturdy mango wood, you can store this for years in your cupboard. Check out its other prints here.
Your guests will notice this platter even from the farthest corner of the table. That's how bright and bubbly this extraordinary serving platter is. Made of mango wood, the platter is in round shape with a handle. The middle portion contains blooming visuals for you to capture gram-worthy pictures. Don't worry about getting these prints over your food as it's laced with food grade lacquer.
Crockery for home dinner parties
Crockery includes your main course serveware collections like plates, katori bowls, quarter plates, and curry bowls. It's great if you can buy them as a whole to maintain uniformity. But there is no hard and fast rule here as long as each dish complements well with other dishes. So, buy them together from vendors like India Circus to avoid complications and confusions.
Our dinnerware items are in patterns that go well with respective others.
Dinner plates
Our dinner plates are minimalistic in designs to enhance the appearance of the food you serve. They are made of bone China material which is stronger than ceramics and porcelain. You can use them life-long without cracks or yellowish stains on them. Look at this Rose Mallow Moscheutos Dinner Plate which is with minimal prints as well as in the ideal size. The same print is available for quarter plates and bowls too. Or, you can pair them up with a dark-themed quarter plate too like this Rosa Edan Elizabeth quarter plate.
Katori bowls
You have multiple options when it comes to katori bowls. Either go for traditional steel bowls or bone China bowl sets. If you want matching bowls for your plates, this limited edition Gruidae's Trance Nikko Bowl set will be a great fit. They are ideal for serving desserts or curries.
Alternatively, you can pick steel bowls like this forest fetish steel katori. They are bigger in size and can be added as a multi-purpose bowl in your party dinnerware set collections.
Time for some desserts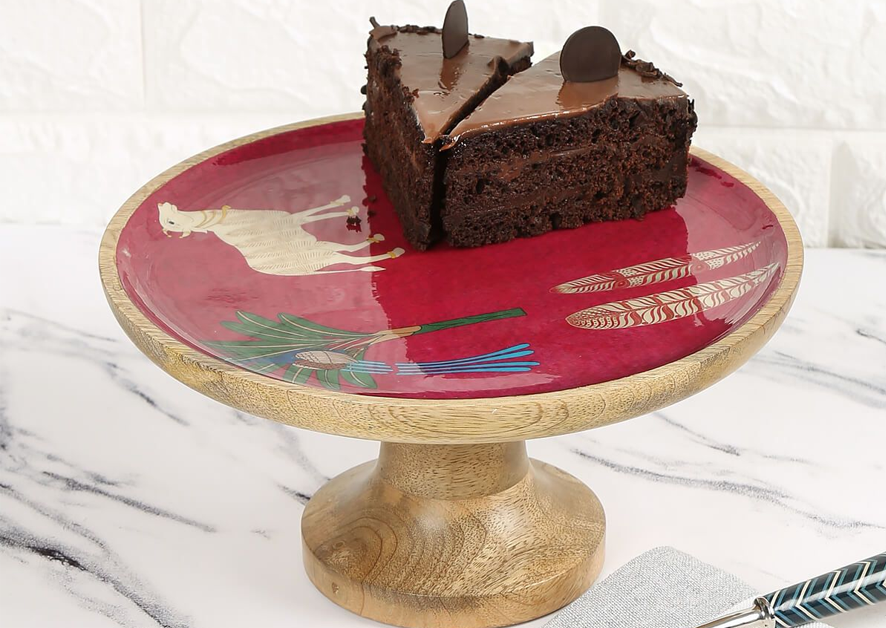 A dinner party is incomplete without desserts. So, add traditional dessert stands and serving dishes to your wardrobe that can carry your home-baked goods. With these dishes, serving a cake will be a piece of cake for your guests. Want some references?
The only thing that's missing from your dining table is a timeless cake stand with a traditional chocolate cake. Add it to the table with the help of this iconic wooden cake stand with a printed top surface. This absolutely transforms your dining area and turns on party mode. You can use it to display any other healthy snacks and fruits too.
Other accessories
While the above dishes and serveware are specific for special occasions, you would need a few accessories too. This section includes every-day basics like table runners, cutlery holders, cutlery, table mats, napkins, casseroles, and other miscellaneous items. India Circus offers great deals on a few of the above products. Refer below to find our editor's picks for these categories.
Magenta Biome mystique Cutlery Holder – A one-of-its-kind cutlery holder with realistic designs printed around.
Blossom Treasure Table Mats – A captivating table mat made of canvas fabric to protect your dining table from food stains. Also, a nice backdrop for food pictures.
Mirroring Deer Garden Table Runner – A pretty protector for your table to safeguard it from stains.
Final Thoughts
It can definitely be a stressful task to make sure that you got everything right for your dinner party. Follow our tips and tricks to make some room for a pleasant dining experience. Our product recommendations are not just thoughtful as per the occasion but also suitable for general use. Buy them today at slashed down prices for a peaceful party planning and hosting. And, don't forget to share pictures on your social media tagging us! We would love to see our dinnerware getting some love and appreciation.

FAQs about How to Impress Your Guests with Stunning and Affordable Serving Pieces for a Successful Dinner Party
Q1: How do you make a party feel fancy?
Consider the smaller details of your serveware and accessories to add a posh touch to your dinner party. Invest in high quality serving trays, gorgeous serving platters and sophisticated drinkware like glass tumblers, wine glasses and serving trays. These components will improve the ambiance overall and create an opulent environment, impressing your guests with a dash of sophistication.
Q2: What is serving ware?
During a meal or event guests are presented with and served food & beverages using a variety of serving ware items. In the context of impressing your guests at a dinner party, serving ware includes elegant platters, high quality serving dishes, wine glasses, glass tumblers, cheese trays, fruit bowls, dinner plates, katori bowls, dessert stands and various accessories that enhance the presentation and the overall dining experience.
Q3: How do you host a successful dinner?
To host a successful dinner party, invest in premium serveware and create a welcoming atmosphere with stylish accessories. Plan a menu featuring delicious dishes & beverages and make a checklist of everything needed to create a cohesive table setting.