Are you looking for home summer decorations to try in 2023? We've got exactly what you need.
As the sun beats down and temperatures rise, it's time to revamp your home decor and prepare the ideal summer home. Often, decorating the interiors can be a daunting task, but we've made it easy-peasy for you.
Summers are all about bright and light colors without heaviness or heavy mess. Start with swapping out rich fabrics for breezy and light ones. Make linen and cotton your best friend. Incorporate natural elements such as table runners, potted plants, driftwood, and seashells. Use seasonal accessories like wall art and floor coverings. Additionally, use sheer curtains to let in as much natural light and breeze as possible.
This article discusses a detailed list of eight home decorative ideas that will allow you to create a fresh and inviting space, perfect for enjoying long summer days and nights.
1. Rearrange the furniture

Before you rearrange the furniture, inspect the space you have. Think about what pieces you want to keep for the summer and what needs to be replaced. Next up, experiment with different layouts, creating a floor plan. Open up the center by installing large pieces of furniture against the walls. Use multi-functional furniture items such as an ottoman or sofa bed if you want less clutter and more space. Don't forget to add accessories like pillow throws, decorative cushions, and wall art to make the space inviting and comfortable. However, take time when rearranging furniture, as it may take trial and error.
India Circus offers a broad range of beautifully designed furniture items that will add an elegant touch to your home experience. Whether you are hosting a party or simply want to elevate the aesthetics of your home decor, rearranging the furniture will be the best decision. Make sure you keep your space clutter-free but load it with vibrant colors!
2. Create a green wall with planters and curtains

A green wall with planters and sheer curtains will be the best home deco moment for you. Bringing some nature into your living space will not only make it more serene but also summer-ready. First, choose a wall that receives ample sunlight during the day. Then, install a series of planters to add freshness and greenery. India Circus provides an impressive army of planters with a vast selection of colors and patterns, on a budget-friendly price! The planters are manufactured from high-quality materials such as terracotta and ceramic, available in various sizes and designs. Fill the planters with lush, green leaves such as pothos, spider plants, or ferns.

Next up, add a few sets of curtains to complement the design aesthetics of the room. Use curtains in earthy tones and patterns to blend effortlessly with your plants. India Circus fabricates premium-quality curtains in several patterns and colors, absolutely perfect for your summer decorations. These curtains furnish the much-needed serenity and look ethereal with the lush foliage. Whether you are looking for something sleek and modern or traditional and rustic, we have everything that you need to transform your space into a gorgeous oasis.
3. Install new floor coverings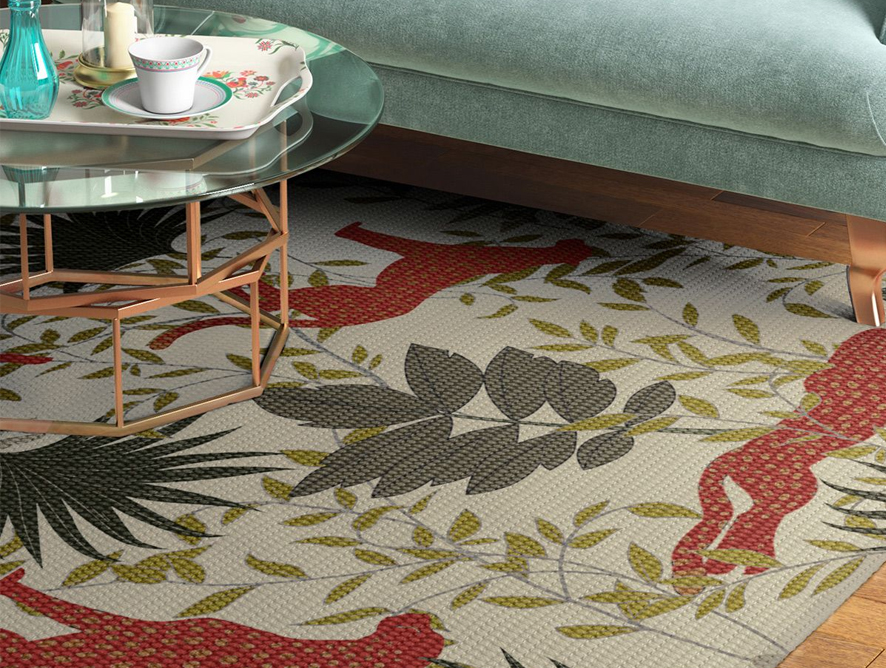 Is your old carpet worn and stained, keeping you away from creating a unique home decor? Guess it's time for a change. Install new floor coverings that are both durable and stylish, making your summer transformation stunning. If you want to stick to the latest decoration ideas, incorporate warm floor covering tones that make the space more attractive and comfortable. India Circus' collection of floor coverings are inspired by India's rich and colorful culture. From bold geometric designs and intricate paisley patterns, these floor coverings will bestow the ultimate sophistication to your home decor.
India Circus rugs are made from materials such as cotton, available in several sizes and colors. Additionally, these floor coverings are dust-resistant. So, you don't have to worry about dirt and stains threatening your creative home decor. Installing new floor coverings will instantly add a touch of exotic elegance to your room, elevating the aesthetics and adding a sense of satisfaction. Whether you are looking for a modest accent or a statement piece, the India Circus floor coverings are sure to impress!
4. Add a fresh color palette

Looking for creative home decor ideas that make your home instantly summer ready? Well, try adding a fresh color palette. A stunning way to add freshness to your home is by installing colorful accent pieces. For instance, incorporate a bold green area rug to add greenery or a bright yellow accent chair for a playful touch.
Another great way to liven up the neutral space is by adding bright artwork and accessories such as vases, picture frames, and cushions in shades of pink, yellow, blue, and turquoise. You may also paint an accent wall in a subtle shade of lavender or baby pink, adding plants and flowers here and there. Mix and match distinct styles and colors to furnish a fun, diversified look.
5. Refresh your home with new wall art

Wall arts are the fundamentals to the perfect home decor. Add a pop of playful colors and refresh your home with vibrant abstract paintings. If you want an eclectic gallery wall-type decor, opt for large canvases or group smaller art pieces together. For a less-cluttered look, hang landscape photographs, maps, vintage posters, or botanical prints. Do not shy away from mixing and matching different styles for a unique and charming decor.
If you want to experiment with your creative side a little more, you may DIY using materials like reclaimed wood or fabric. But if you are looking for quality wall arts that add the ultimate character to your space, introducing India Circus' wide range of wall art collection. With green foliage to floral patterns and animal prints, these artworks define the rich ancestral history of India. Not only are they refurbishing and decorative, they are truly inspiring, and can elevate any space!
6. Incorporate copper dispensers and storage organizers

Storage organizers and copper dispensers are not only stylish but practical additions to your home. Not only do they bestow a modern look, they make your home clutter-free, which is the vibe for summer. Nobody wants a space that's messy and unorganized during the hot summer days. So, get rid of everything that you don't need, and organize your necessities with multi-utility storage solutions and organizers. India Circus offers a collection of designer racks that add flair and exuberance to your home decor. From storage boxes to tissue holders, you will find everything that caters to your needs.

Another essential aspect to create a summer-ready home is to incorporate copper dispensers. Copper apart from being a sturdy material that can easily stand wear and tear, also imparts several health benefits. Whether you are looking for a copper utensil folder for the kitchen or a copper tumbler or jug for your living room, you will find it all at India Circus. They offer copper tumblers, jug sets, and small cups in myriad patterns and colors, on a budget-friendly price. With their rich tones and elegant finishes, you are sure to add charisma to your home!
7. Include light and bright color bedding

If you are still looking for hall decoration ideas for your home, your search ends here. The bed is the bedroom's centerpiece, and its appearance complements the rest of the decor. Hence, it's essential you choose the right bedding when decorating your home for the summers. Make sure you use a light and bright colour bedding that reflects warmth and fills the space with joy and cheerfulness.
At India Circus, we believe in the sense of contentment and style. So, we offer you nothing but happiness with our diverse range of bedding, including cushions and dohars. The softness of the sheets adds a moment of peace, washing away your worries under the gentle embrace of sunshine. You will find bed dohars, cushions, and other bedding essentials in lighter and brighter colours.
8. Accessorize with table runners

Table runners are the simplest yet the best way to accessorize the dinner table. Not only do they add depth and texture to the overall aesthetic, they increase the functionality of the space, reducing spills and scratches. Table runners come in various sizes, colors, and patterns. However, for the perfect summer decor, we suggest you go for brighter colors and bold patterns. India Circus bestows an extensive collection of table runners that augment the home decor the absolute best.
Whether having a casual brunch with friends or hosting an office dinner party, adding a table runner enhances the tablescape. At India Circus, you will find table runners in myriad sizes and colors, allowing you to choose the one that best fits your needs. They are durable and beautiful nonetheless. So, don't worry about revamping your home decor when you can accessorise with table runners and transform your dining space completely!
Final words
Decorating the house is a difficult task, especially during the summers. The heat kills and so does the messiness around the house. To help you achieve your dream decor, we brought forth the eight best summer home decorating ideas that you can try in 2023. With a number of accent pieces and furniture items, you can transform your existing home decor into an ethereal oasis. So, if you want to add some charisma to your summer home, look no further than India Circus. All our products will help you create a stylish and eye-catching space.